A big decision when it comes to new cabinets is deciding what type of countertop to crown them with. Countertops provide functionality, enhances aesthetics, and can even increase the value of your home. Here at LSG Woodwork, with out help from our partners, we can provide a variety of materials.
But before you decide, there are some questions you should consider. First, what it your budget? Natural stone may look wonderful to have in your home but it may be out of your prince range. Second, what is your style? Are you looking for a warm rustic feel? Then butcher block may be the material you want to consider in your space. Third, what kind of sink are you looking to have? If you want an undermounted sink with a nearly invisible seam then Corian may be a good choice for you. Finally, where will your countertop be located? If you are doing a kitchen countertop you may want to have a nice solid-surface material which will be durable and low maintenance.
Having considered these questions, let's talk about the different materials that you can choose from.
Natural Stone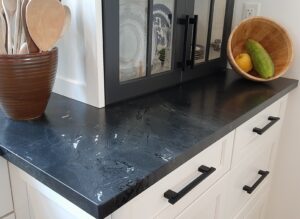 Natural stone includes such materials as granite and marble. They are cut from nature's stone. Since every stone is different, each slab is unique. Meaning that there aren't two identical countertops. This low maintenance material often has more dramatic patterns than manufactures products. They allow for undermount sinks and are very durable.
Quartz and Dektan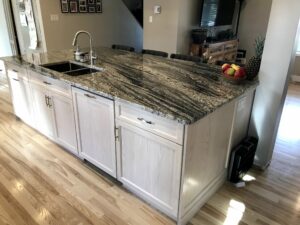 Quartz is an ultra-durable non-porous material that won't crack, scratch, get chipped, or stain easily – making them a low maintenance material. Unlike natural stone you are not limited to the design that nature provides. There is a large variety patterns that you can choose from to meet your style. The bonus of quartz is that the name adds value to your home.
Dektan is similar to quartz but is more durable. They require little maintenance and comes in a variety of colours and patterns.
Corian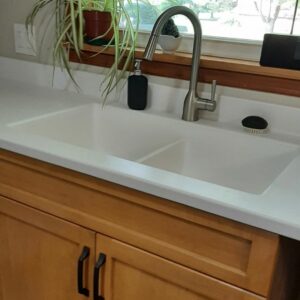 Corian is a blend of acrylic polymers with other minerals and stone-derived materials. It is softer than quartz but harder than laminate. Its composition allows for nearly invisible seams and integrated sinks and drainboards. They come in a variety of colours and are priced by category. They are easy to clean.
Butcher Block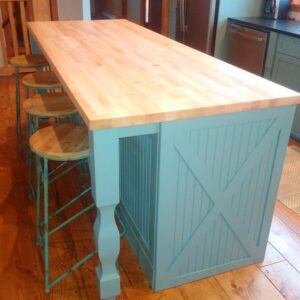 Butcher block countertops give the space a cozy rustic feel. It's a material that mixes well with others and doesn't go out of style. It requires more maintenance than solid-surfaces such as quartz. Also it is softer, meaning that it is susceptible to scratches, dings, and stains. However, it can be easily restored through sanding and refinishing.
Laminate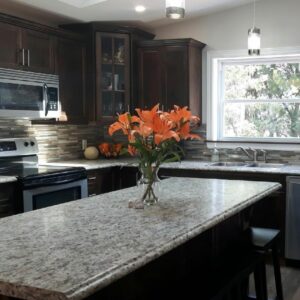 Laminate countertops are an inexpensive, low-maintenance alternative to stone and solid-surface countertops. Robar Countertops supplies us with high-end laminate which comes in a variety of styles and colours.
As LSG Woodwork these countertops are supplied through a few different companies. Our two prominent suppliers are Living Stone and Robar Countertops. You can look at their selection before making any decisions.