Let's chat about cabinet hardware! We don't often pay too much attention to hinges and drawer slides until something goes wrong.  But if you are investing in new cabinets there are things that you should look for. So, let's break it down and look at each component.
Hinges
There are two styles when it comes to hinges – traditional and European. Traditional hinges are typically found on framed cabinets and are mounted on the exterior. European style hinges are typically found inside unframed cabinets are are concealed from view. This makes for a cleaner and modern look. Here at LSG Woodwork we prefer the European-style hinge. There are some advantages to these types of hinges.
They are more durable and stronger.
They are adjustable. Houses shift, and so do cabinet doors. This can leave an uneven gap between the doors. The hinges allow for adjustments to correct this.
With their snap-on design they allow for easy attachment and removal of the doors.
They have soft-close technology.
Drawer Slides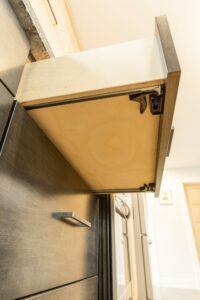 Now on to the more hidden component of a drawer – the drawer slide. When it comes to this component there are three things you should consider – weight capacity, extension, and noise. You want to be assured that your drawer will hold up its contents, that you have full access to your contents, and that the drawer will not slam shut. For these reasons we use Movento-40kg drawer slides here at LSG.
They are tested for 200,000 closes
Give full access to your drawer.
Allow for easy removal of your drawers.
Have soft-close technology and a silky-smooth operation.
They have lifetime warranty.
Cabinet hardware matters, and here at LSG Woodwork we care about even the small details.